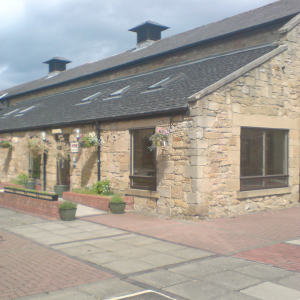 The Courtyard is a modern café bar set within the delightful surroundings of the council run Arts Centre Washington in Fatfield. Situated in the heart of Washington, the Arts Centre is both accessible for locals as well as for people from further a field.
Set in open grounds the Arts Centre has ample free parking there are nearby links with regional and local bus services.

We operate the bar on a franchise basis from the City of Sunderland council. Through our knowledge and expertise gained from running one of the best real ale houses in the North East, it has been possible to turn the Courtyard from a quiet café bar located within an arts centre, into a thriving locals bar, arguably serving the best quality real ale in Washington. We have been listed in the CAMRA Good Beer Guide for eight consecutive years now and was runner up in the Sunderland and South Tyneside CAMRA pub of the year 2008
The Courtyard operates a continuous cask ale programme sourcing ales from the very best micro brewers across the whole of the UK, and in doing so has introduced customers to a vast range of ales which they were unlikely to have sampled anywhere. Seven cask ales and at least one real cider are available at any one time. We showcase in the region of 15 to 20 different ales every week. The range is also complemented by a good selection of bottled Belgian beers.
The Courtyard hosts an annual beer festival each year over the Easter Bank holiday which expands on this programme and for the period of the weekend will have at least forty ales and ciders on offer at any one time. The Art's Centre provides a wider range of community based arts activities and supports over 40 regular user groups as well as presenting professional theatre, exhibitions, festivals and music The Arts Centre is home to the Davy Lamp Folk Club every Saturday evening. In addition there are seven studios located around the courtyard occupied by professional artists. The Arts Centre has a wide and varied programme of events including arts, crafts, live theatre.

Opening hours for the Courtyard bar are;
Monday to Thursday 11.00am till 11.00pm
Friday and Saturday 11.00am till midnight
Sunday 12.00pm till 11.00pm.
For details please telephone (0191) 417 0445.
Email - thecourtyardbar@aol.com